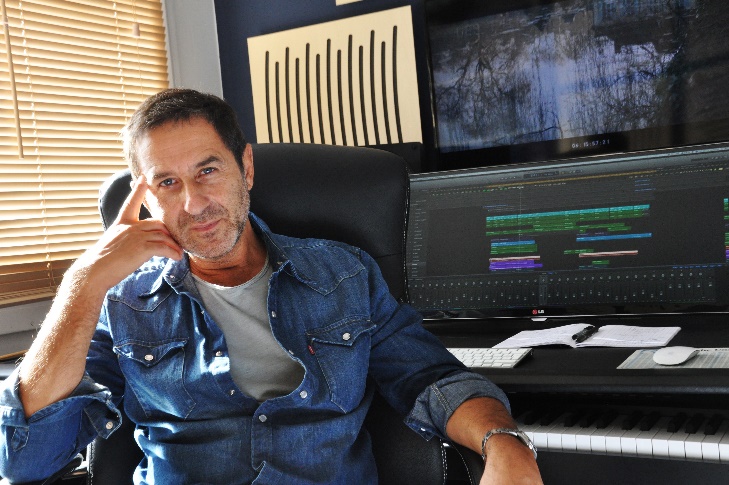 Born in 1963 in Versaille, France, he studied guitar from the age of 7, then piano at the age of 11 at the Versailles Conservatory.
He began his career by being noticed by the producer Marc Lumbroso and signed his first record with POLYDOR in 1988. From then on, he began to compose for singers such as Liane Foly and Princess Erika, Richard Gotainer for whom he signed many advertising music and program credits.
From 1987, He turned to film music, collaborating with Didier Kaminka for his film "Tant qu'il y aura des Femmes" and then with Jacques Fansten in 1991 for "La Fracture du myocarde".
In 1993 he composes the soundtrack of the  "Classe mannequin" series whose song "Essaye d'Imaginer" was number 1 in the top 50.
In 2000 and 2002 Philippe recorded two concept albums entirely a cappella. A large number of French artists are taking part in this adventure: Maxime Le Forestier, Michel Jonaz, Claude Nougaro, Maurane, Zazie, Julien Clerc, Laurent Voulzy, Stéphane Eicher… among others. 
Since then, he devoted himself solely to music for the image, composing the music for the film "Nos amis les flics" by Bob Swaim in 2003 and participating in the soundtracks of "Disco" in 2007 and "Camping 2" in 2010.
By signing in 2007 the music of the successful series "Fais pas ci Fais pas ça" for France 2 Philippe acquires from now on an important place in the French film music and connects the projects; he also signs the music of the series "Mongeville" on France 3 and of the last season of "Hard" for Canal.
In 2017 he made his mark in the cinema by signing the music of "Monsieur et Madame Adelman" directed by Nicolas Bedos, then in 2018 he composed the soundtrack of the series "Les Chamois" for TF1 and in 2019 the soundtrack of the series "Faites des gosses" for France 2.
In 2020, he records the soundtrack of "Y aura-t-il Noel à Noel" last opus of the series "Fais pas ci fais pas ça" and participates in the composition of the film "le Lion" by Ludovic Colbeau Justin.
In 2022 he wrote the soundtrack of the TV movie "Répercussions" by Virginie Wagon for France 2, then signed the soundtrack of the film ″Menteur″ by Olivier Barroux. He also composes the music for a new series for France 2 ″A l'instinct″ and then lately the soundtrack of the film "Nouveau départ" by Philippe Lefebvre currently in post production.
He is currently writing the soundtrack for Jim's film "Belle enfant".